Refrigeration
AC/DC Controller: digging for answers
Details

Category: Refrigeration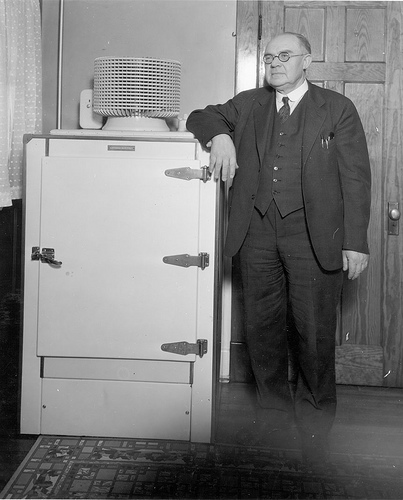 Once upon a time, a long time ago, there was only one brand of refrigerator that would work on 12v DC boat power. There must have been many thousands of them out there back in the day, predominately on powerboats, and a lot still exist to this day.

These refrigerators have one or two compressors typically mounted on the rear of the cabinet, and these compressors require 20v-30v AC for their operation. When 115v AC mains power is available, either from shore power or a generator, the power for the compressor(s) is supplied by using a simple transformer to lower the 115v AC down to the lower AC voltage required by the compressor(s).

But when the boat unplugs from the dock or the generator quits, the compressor is then powered from a built-in inverter that produces the required low voltage AC from the 12v DC supply. Due to losses inherent in inverters and the desire not to involve electronics unless absolutely necessary, these fridges would always be supplied with separate wiring for connection to both 115v AC and 12v DC, with the system automatically switching to 115v AC if it is available.

Fast forward to modern times, and we are now blessed to have marine fridges utilizing the super-efficient Secop (formally Danfoss) compressors that are powered by 12v or 24v DC. Under normal circumstances, when the vessel is at the dock and plugged in to shore power, the battery charger will be on and supplying the DC power for the fridge. The batteries are not involved in this process, as the DC from the charger does not go into and out of the batteries, but is supplied directly to the fridge from the charger.
In this situation there will always be 12v or 24v DC available, but if circumstances dictate that the charger will not be left on, or that at times there will be no 12v or 24v DC available,
Jumping Jack Flash - It's a Gas, Gas, Gas
Details

Category: Refrigeration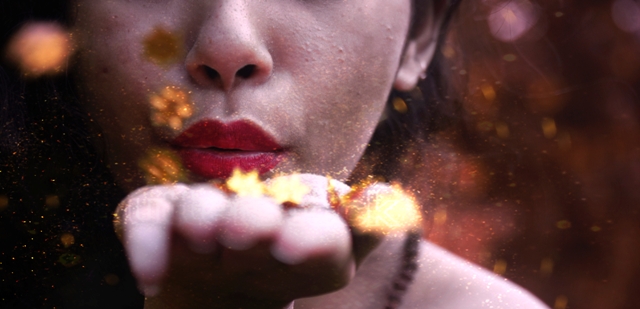 There has long been a debate about air cooling versus water cooling for marine refrigeration systems. Water cooling has traditionally been generally accepted to be between 25% and 35% more efficient in warm/hot ambient conditions, but some of that efficiency gain has to be offset by the energy required to run a water pump.

The Frigoboat Keel Cooled system is water cooled and does a fantastic job without the need for a fan or a pump. That will be mentioned later, but the following compares air cooled systems to traditional water cooled systems using sea water with a pump.

Many boaters these days seem to be opting for air cooled refrigeration systems even though they're heading south into hot climates, and despite the notion that air cooled is inherently less efficient than water cooled. Why is that?
It's that darn flasher again!
Details

Category: Refrigeration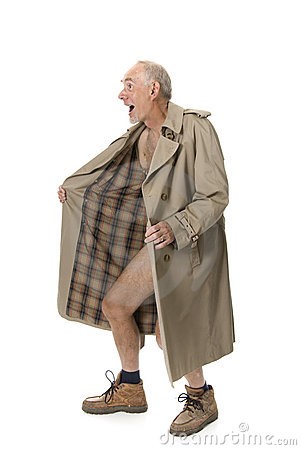 Inner Secrets of the Danfoss/Secop BD35/50 Motor Controller (aka Module)

Well I can't actually give away any real secrets, because I don't think anyone really knows what goes on under that mysterious black plastic shell except for the manufacturer, but I do know a fair bit about what can and does go wrong with them.

But first let's take a step back and recap on what the little black box actually does.

The current generation of small, mobile refrigeration compressors from Secop (formally Danfoss) utilize a very simple motor with just three equal windings and no brushes or slip-rings. These three windings terminate in three pins that protrude from the compressor shell and connect to a push-on plug connected to the controller.

It's the controller's job to take the 12v or 24v DC input and spit it out in sequence to each of the windings in turn, causing sufficient torque to turn the rotor and so push the piston in and out compressing the refrigerant gas. So the motor actually gets a modified DC signal, a form of AC in fact, and by varying the rate of delivery of the signal to each winding and effectively altering the frequency, we can make the motor turn at different speeds.

That's it. All pretty simple in theory. As a means of altering compressor speed, the controller uses the switched input from the thermostat, and by adding resistance to this circuit it alters the speed at which the compressor will run.

So what could possibly go wrong?
Rules of Engagement
Details

Category: Refrigeration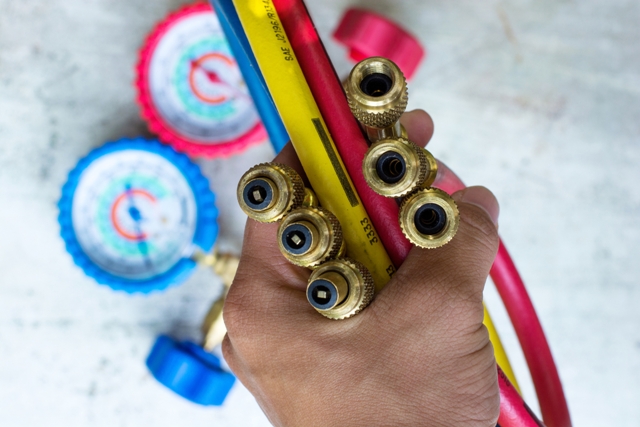 It's happened again, and I'm getting really tired of it. Yet another call from a boat owner who called in what he thought was a trained and experienced marine refrigeration technician to fix a poorly performing system, and now it's working worse than it was before! Why? Because the technician had added refrigerant, or "put in a shot of Freon" to what previously was a perfectly charged system.
Our office here spends way too much time on the phone and in e-mails helping customers correct mistakes made by mostly well intentioned but misinformed and inexperienced technicians. Too often it seems that adding refrigerant has been a Hail Mary move, made after diagnosis was unsuccessful, and done in an effort to show the customer that at least something had been done. And that's where all the problems start ....