We Are So Terribly, Terribly Sorry!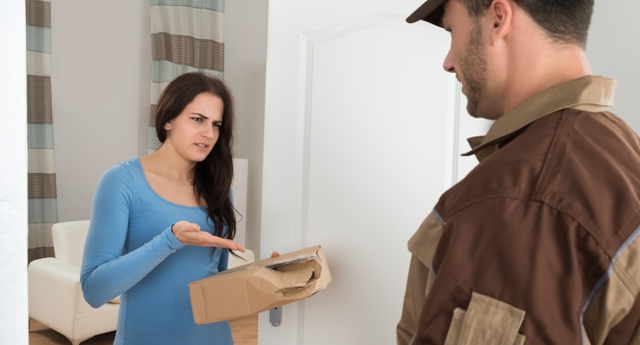 "We're sorry." "I'm sorry to hear that." "Very sorry, but it's out of our hands."
We're having to utter these sorry little phrases more and more these days, but not relating to any issues with our products. These are being made in response to reports of shipping issues, where damaged goods, lost or missing packages, inconvenience from signatures being required, and excessive shipping costs all seem to be on the increase lately. In addition, our once chirpy pick-up/delivery drivers seem to be generally disgruntled of late, and they put it down to the "Amazon Effect".
So, what exactly is the Amazon Effect?
The sheer volume of shipping, free or otherwise, by Amazon and others to residential addresses is beginning to overload the system as well as skewering customers' perception of what is the norm for shipping in general. Online retail sales from Amazon and others are increasing while those at bricks and mortar stores tumble, with record numbers of stores closing and malls becoming lonely places. UPS announced recently that they will be increasing the cost of residential deliveries during holiday periods in an effort to contain the flood, and that's on top of other increases already implemented or in the pipeline. Watch for FedEx to follow.
But it's not just the delivery drivers that are suffering from the Amazon Effect, our customers also are seemly being inflicted. This is best illustrated by the sort of comments we're now getting from customers with damaged or missing merchandise, with utterances like: "If you were Amazon, you'd just send me another one, and they don't even charge shipping."
But there's a big difference between the sort of goods that Amazon typically sells and the specialized parts we deal with that are often procured in small quantities from foreign manufacturers. Having a six pack of knickers go missing is not really in the same league as a unique electronic component for a marine air conditioner from Europe that gets delivered damaged, now is it?
At Coastal Climate Control, we aim merely to cover our shipping costs, not to make any profit from it. We do strive to ensure our product leaves the warehouse well-packaged and in excellent condition, and goes to the correct address; all to stack the deck in the customer's favor that their purchase arrives in good condition.
This is a costly and time-consuming process. It involves finding the best and most reliable shipping method, negotiating discount rates with different shippers, and then packaging the goods so they survive the journey intact.
Freight shipping is a different beast to small package shipping and presents its own issues to protect against. These shipments have an ever-increasing risk of being assaulted by rouge fork-lifts, driven by cowboy drivers. Just a kiss from one of those heavy-metal forks can inflict irreparable damage.
We ship bulky items like Refrigerators on pallets larger than the fridge box to provide 4-6" of free-air-space between the pallet's edge and the fridge box. That may give enough room for a forklift's tong to miss hitting our box as it pirouettes between pallets on its mad scramble to quickly load and unload cargo. This adds volume to our shipments, but not weight.
Unfortunately, this is a problem for one freight shipper as they feel it's "empty" volume and therefore want to charge us more. They insist our product must take up 65% of a pallet, preferably all of it, otherwise the charge for the shipping will almost triple. Of course, this is rather arbitrary as one day a shipment goes out wilthout issue and the next day the same of shipment with the same dimensions and weight gets slammed with a class change and freight bill increase.
But I digress. This blog is about online/retail purchases that suffer an increasing amount of shipping damage each day, coupled with the high expectations customers have adopted regarding those purchases. More and more, retail is evolving into being online and we, the customers and merchants, must know that when damage happens, it's no one person/company's fault and a good solution is to learn Best Practices to battle this new front.
1. Inspect the package for damages before signing for it.
2. If this is a freight shipment, note any damages on receipt before signing it.
3. If damage appears extensive and unrepairable, consider refusing delivery.
4. Immediately call the company that sold the product to you for an action plan.
By accepting you will be accessing a service provided by a third-party external to https://coastalclimatecontrol.com/