Maintenance of Flexible Solar Panels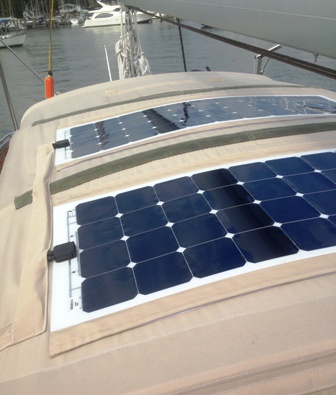 The good news for those with flexible solar panels with a polymer top coating is that maintenance is minimal.
1. Keep the modules clean by washing them with fresh water to remove salt water deposits, bird droppings, dust particles or other debris that can lessen the chances of the sun's rays from reaching your solar cells.
The surface of the panels may be cleaned using neutral soap and water, wiping carefully and without using abrasive material. Denatured alcohol (methylated spirit) can be used to remove grease, etc.

When panel is clean and dry, apply a coating of a plastic protectorate such as "Plexus" or Novus Plastic Cleaner #1- available at your marine chandlery or online.

If contaminants build up or oxidation occurs over time, it may be necessary to polish the panel. The recommended polish is either ReJex or Novus brand polish, #2 (Fine scratch remover). It is recommended that you hand polish the panels, as a power polisher could burn the surface with too much friction. Follow the instructions on the product label.
2. Check the structural integrity of the installation and the electrical connections periodically.
3. Check the efficiency of the system using the monitoring functions in the charge regulators (LEDs or displays).


By accepting you will be accessing a service provided by a third-party external to https://coastalclimatecontrol.com/