Frozen Dreams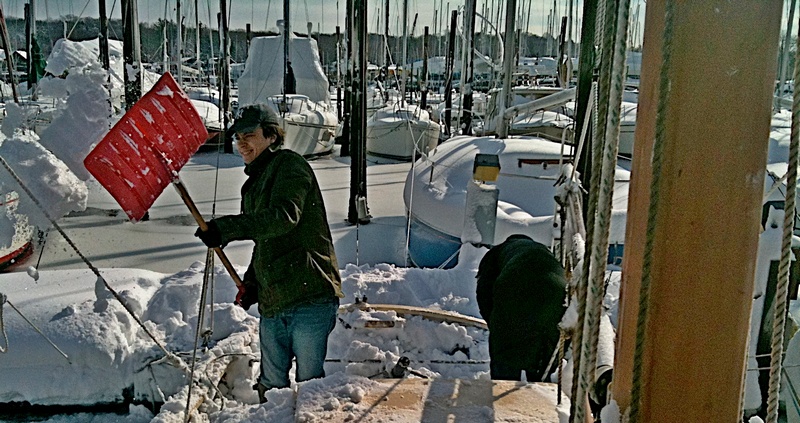 As tough a job as it is, trying to sell air conditioning and refrigeration up north here in the midst of ice storms, arctic blasts, and brass-monkey weather, is nothing compared to installing the stuff in those sorts of conditions.
For those of you snowbirds currently basking in warmth and lathered up with sunblock, this will serve to reinforce the notion that you shouldn't start heading north anytime soon.
In the years leading up to 2019 BC (Before Covid), boats would be sold at the Fall Boat Shows here on the East Coast and then start rolling into the boatyards and dealerships throughout the winter.
Then the scramble starts in earnest to get the boats commissioned and all extra gadgets and gizmos installed ready for a Spring/Summer launch. This has been known to be followed in the Fall by buyer's remorse and a realization that this boating lark is a bit more stressful, time consuming, and a whole lot more expensive than first imagined.
But I digress. Let's get back to winter woes.
I ask that you please spare a thought for those souls at this time of year who are hunkered down below deck, scrambling through the bilges running wires, hoses, tubing, etc. When a boat is sitting in a lake of ice, the interior never really gets comfortably warm, and every job doubles its score on the difficulty scale. A hose or cable that would normally be soft and supple in Summer becomes a semi-rigid, non-compliant hindrance to progress in Winter.
Working on boats that are hauled out on the hard adds more challenges, especially so with sailboats. No matter how much heat you can muster inside, you'll never win one over that big lump of frigid lead or steel under the floor that's sucking all the heat out of the cabin.
Then of course there is the logistical battle of getting heavy pieces of equipment on board and then down below. Lugging an 80-pound air conditioning unit ten feet up a ladder is no easy job in warm weather, but becomes a mighty challenge with frozen fingers and when one is bundled up in thick clothing and sporting clunky Herman Munster-style boots.
If for some very strange reason, the above has stirred you into thinking that you really must get air conditioning and/or refrigeration installed on your dreamboat ready for the boating season, then it's Coastal Climate Control to the rescue.
While we can't (OK, we won't) leave our comfy offices to come and install this stuff for you, we can supply just about all the bits and bobs you'll need along with an ocean of advice and support from our warm and friendly staff of experts.
But a word of warning. If you're seriously considering an installation you'd be well advised not to procrastinate. Parts and equipment are becoming increasingly short of supply these days as the effects of Covid and the associated restrictions and slowdowns continue to take hold. Shipping times and costs have already gone through the headliner.
I think we're going to be scrambling like mad once Spring sets in, and then we'll see some things being as scarce as toilet paper on supermarket shelves during those early days of the pandemic.
Let us show you some of what we offer - hope you all enjoy the movie!
By accepting you will be accessing a service provided by a third-party external to https://coastalclimatecontrol.com/