Bending Instructions for Frigoboat's F-type evaporators
(as found in Section 6 of the Frigoboat manual)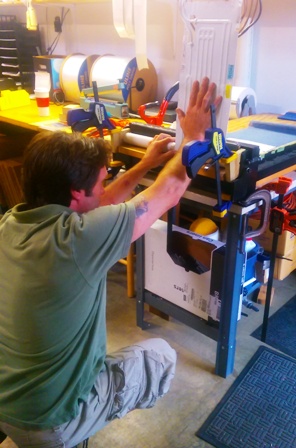 The F-type flat evaporators may be carefully bent on a minimum 1.5" radius to follow the shape of the icebox. This is best done by holding a section of suitably padded PVC pipe (with an outside diameter of 3.0" or greater) firmly down on the plate, and then carefully bending the section upwards with the palm of your hand.
The stainless steel plates need more force to bend and may require the assistance of a second person. This must be done slowly and with great care to avoid excessive kinking of the channels in the evaporator.
Never attempt to bend a plate downwards over a pipe, as damage may result.
In order to prevent the paint from cracking, the area to be bent should be warmed with a hair dryer or heat gun to approximately 200 degrees F before bending.
There are sections of the evaporator that must not be bent, and these are indicated on the specification sheet.
All F-type evaporators can be mounted with either side facing inwards, including the 380F which has one smooth side and one with channels. F-type plates with a stainless steel cover must be mounted with the stainless side facing inwards.
By accepting you will be accessing a service provided by a third-party external to https://coastalclimatecontrol.com/