So What Makes You Think Your Compressor is Bad?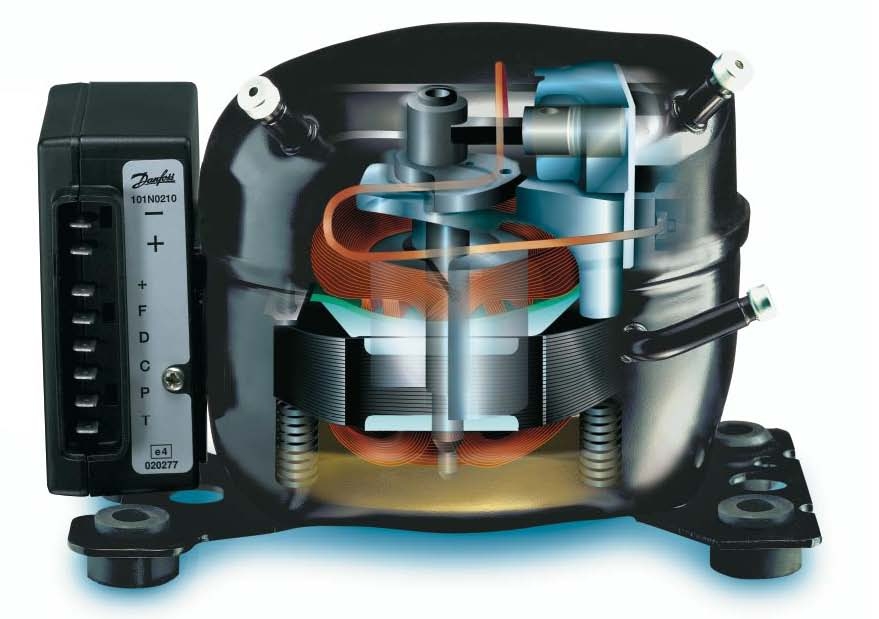 Most marine refrigeration, and all Frigoboat systems, use the Danfoss BD 35 and BD 50 compressors which are incredibly reliable machines and very robust. It takes a lot of abuse to "kill" one (they don't simply die from natural causes), so if you suspect that your compressor is faulty, it's important to know how these compressors work, how they can be damaged, and what symptoms to look for.

The Danfoss BD 35 and BD 50 compressors are identical except that the BD 50 has a little more cubic capacity and therefore a slightly higher Btu rating. The compressor and motor are hermetically sealed inside a steel canister and supported on vibration-absorbing springs. There is no shaft seal that could leak refrigerant.

COMPRESSOR – The compressor is a single-cylinder device with a crankshaft that when rotated pushes a piston in and out of a cylinder, compressing the gas. A simple valve plate allows gas to be drawn in on the down-stroke, and the gas to be compressed and then released on the up-stroke. The compressor assembly is mounted above the motor, and the vertical crankshaft is a continuation of the motor shaft.

MOTOR - The compressor crankshaft is rotated by means of a poly-phase inductively coupled motor that has no brushes to fail or wear out. There are three sets of windings arranged around the stator, and the ends of these windings terminate on a three-pin connector that provides for the electrical connection through the compressor shell. The rotor is built around the shaft that connects directly to the compressor crankshaft.

ELECTRONIC COMPRESSOR CONTROLLER – Also known as a "module", this is a vital part of the compressor, and the motor cannot run without it. The controller is mounted on the compressor on a special bracket, and secured with a screw. It is electrically connected to the motor via a three-wire plug that is pushed on to the three-pin connector on the compressor shell. The compressor controller basically takes the 12v or 24v DC input and energizes each of the three windings in turn, causing the motor shaft to rotate. Varying the speed at which the windings are energized varies the speed of rotation of the shaft.
So what could possibly go wrong?
Read more: So What Makes You Think Your Compressor is Bad?