Solara 120w Power M solar panel, SunPower cells
S525M35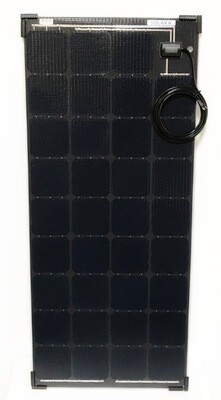 Solara
Solara's Power M solar panels made with genuine SunPower® mono-crystalline back-contact solar cells, with an efficiency rating of up to 25%, highest available on the commercial market.
Appearance and Design:
» Elegant and attractive design
» Extremely thin (5mm) profile with aluminum Di-bond backing plate
» Flexible and bendable plate for mounting on curved surfaces (up to 3%)
» Rugged construction allows panel to be walked on
» Pre-drilled cable exit hole permits tidy installation
» Excellent performance: Highest quality solar cells

» High efficiency ensured by the use of SunPower® mono-crystalline Back-Contact cells with up to 25% efficiency rating
» Increased voltage output thanks to high cell count - 35 cells
» Powerful low-light performance - High yields even under cloudy and partially shaded conditions
» Especially developed for marine installations in areas of extreme heat/cold, and salt water environments
» Also applicable to the mobile market - RVs, caravans, vans, vendor carts, etc.
» Equipped with a UV resistant cable, sea water proof cable outlet, and mounting holes
» External cell protector with bypass diodes offers protection against cell overheating (Hot Spots)
» Manufactured exclusively in Germany
Click here for the Solara Manual
Please note:
Due to a recent US Government proclamation, there is a Tariff on solar panels not manufactured in the United States, however this panel is currently exempt.
Please note also: The US Residential Energy Credit is still in effect for US tax payers, and applicable to 1st and 2nd homes, i.e your boat or RV.
Specifications

| | |
| --- | --- |
| 120 watts | Peak Power at STC* |
| 20.68 volts | Peak Power Volts |
| 5.8 amps | Peak Power Amps |
| 525 watt/hrs | Est. Daily Yield (summer)** |
| up to 25% | Cell Efficiency* |
| 49.1" | Length |
| 21.3" | Width |
| 0.2" | Thickness |
| 9.7 lb | Weight |
| 8.7 feet | Cable length |
* STC = Standard Test Conditions - 1,000 w/m sq 25C AM1.5