Rigid Backing for Solbian SP series panels
C5011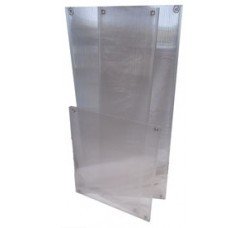 SP panels 24% SunPower Semi-flex Cells
Rigid twinwall polycarbonate panel, 60" x 22" x .25" for the Solbian standard SP series solar panels (SP104, SP118 long, SP130, SP144).
This backing plate allows for air circulation under the solar panel, which helps keep the panel's overall temperature down. The hotter the solar cells get, the lower the voltage, which lowers the panel's output.
If you are installing your solar panels on a bimini or dodger, and the only way you can do this is by going across a framing bar instead of between them, then a rigid backing panel or other such device is essential to prevent the solar cells resting on the frame from breaking due to the natural movement inherent in canvas covers.
Each backing panel comes with U-channel edging for the two long sides. Grommets can be easily installed on the ends. The U-channels hold the solar panel to the backing panel.
The ends where the grommets can be installed can be cut off if securing rigid panel to a hard surface.