Solar
Choosing a Solar Controller - MPPT or PWM
Details

Category: Solar
Standard solar panels produce much higher voltages than are safe to feed directly to a battery, so a solar controller or regulator must be connected between them.

Two types of controllers are available; PWM (Pulse Width Modulation) and MPPT (Maximum Power Point Tracking).

PWM Controllers - When charging, these controllers feed the power from the panel straight through to the battery until
the battery voltage reaches a predetermined Acceptance level. It will then keep the voltage at that level by pulsing
the panel voltage on and off to keep the battery voltage constant.

During the Bulk stage of charging, the amperage delivered to the battery is slightly less than the amps from the panel due to losses in the electronics.

MPPT Controllers - These controllers take the best mix of amps and volts from the panel to give the maximum power.
They then track this Maximum Power Point as conditions change to ensure the highest power is extracted from the panel
at all times.

The DC panel output is then inverted into very high frequency AC and then converted back down to DC to feed to the battery. The result of that inversion/conversion process is that more amps can be delivered to the battery than were produced from the panel, resulting in reduced charging times.

That is a significant advantage over PWM controllers, and more than justifies the higher cost of the MPPT models.


Marine Solar Planning Guide
Details

Category: Solar

Typical marine solar panels are comprised of a number of silicon cells (normally 32+) connected together electrically in a series string. Individual silicon cells produce only around 0.6v to 0.7v, and so enough of them have to be connected together in series to produce a voltage high enough to be able to charge a 12v battery.
A Charge Controller must be connected between the panel and the battery to reduce the panel output to a safe charging voltage. Some panels have less than the normal number of cells and produce less voltage than is required to charge a 12v battery, and these will require either a special boost controller, or for a number of them to be connected in series to produce a higher voltage.
Estimating Daily Power Output from Solar Panels
Details

Category: Solar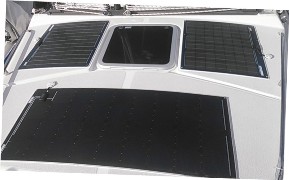 The published wattage rating of solar panels is determined by testing with a machine that flashes a light with an intensity of 1,000 watts per square meter on to the panel as if the sun were directly overhead. This flash test, performed under standard temperature and air quality conditions, gives a theoretical maximum power output that might be possible from that panel under the most ideal conditions.


This may sound like a cheap marketing ploy, but in fact is done from a safety aspect, as the cable and safety devices (fuses, breakers, etc.) must be sized in accordance with the maximum power that the panel(s) might produce, especially in multiple panel arrays. Typically, a panel will produce nowhere near its rated output in normal use, except maybe occasionally and then only very briefly. Considering the above, and the multitude of ever-changing conditions in a real deployment, it is not practical to simply use the wattage rating of a solar panel as an indicator of what power output to expect over the course of a complete solar day; i.e. from sun-up to sun-down. So how can we estimate what size panels, and how many, we might need to satisfy our daily amp/hour consumption?


First it is necessary to differentiate between the three most common types of silicon cells in general use.
How many solar panels do I need to run my boat's refrigeration?
Details

Category: Solar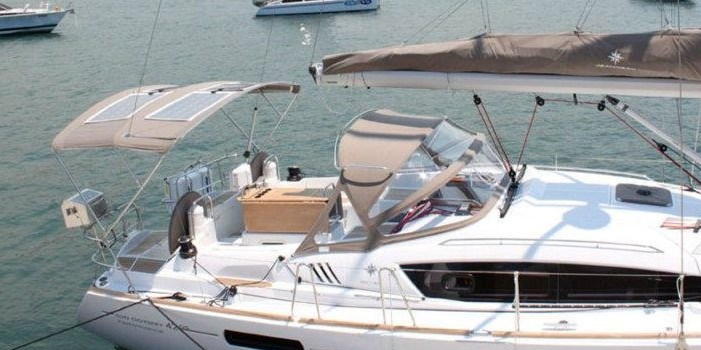 An increasingly popular question we hear at Boat Shows is "What size solar panel do I need to run the refrigeration on my boat?" Of course, this begs the question "What is your refrigeration's current draw?" which in itself may not have a set answer.
The current consumption of any refrigeration system is meaningless unless all the conditions are specified, i.e. box temperature, ambient temperature, water temperature, compressor speed, voltage, etc. The manufacturer's figures are simply average numbers; some manufacturers, like Frigoboat, attempt to give a true average figure, while others use their figures more as a marketing tool.
Making use of variable compressor speed, as Frigoboat does with the Merlin II and Guardian speed controls, and others do with the Danfoss/Secop AEO control module, brings even higher efficiency and lower overall power consumption in air- and keel-cooled systems, but is counter-productive in a pumped-water system. This is because the pump adds 25% to 35% extra current draw, and so it is best to run the compressor at full speed and get the job done as quickly as possible. The most efficient system is one using the Keel Cooler; no pump, no fan, and variable compressor speed can be used to gain even higher efficiency.
Daily consumption is measured in amp/hours per day, and you can get an idea of what to expect by using a watts meter, like Watts Up, on your refrigerator leads. These meters can tell you how many amp/hours per day a device is using, and it's best to use it over several days to get a daily average. The running consumption will vary dependent on conditions, as will the on/off cycle time, so you will need to be able to come up with an average daily amp/hr draw.
As a general rule of thumb, a solar panel with SunPower® cells will give approximately 1/3 of its rated wattage as a daily yield in amp/hrs. A panel with regular monocrystalline cells will produce about 1/4 of its wattage as daily amp/hrs, and a polycrystalline panel produces around 1/5 of its wattage rating in amp/hrs per day.
Let's take an example: