Refrigeration
Off To The Loo?
Details

Category: Refrigeration

Having recently visited Britain, I happen to notice a few quaint little odd-ball quirks that I'd thought would be fun to share. These are in addition to the better known ones such as warm beer, driving on the left, going to the loo, cricket, and four tides a day in The Solent.
Light switches - In the UK these are down for on; up for off. Makes perfect sense to me, and great for hanging coats on during the day. Puffy jackets in Winter; raincoats in Summer.
Light bulbs - These have a bayonet fitting and are not screw-in. Attempts to unscrew them will not end well, especially with 230v power.
Road Lane Markings - Why is it that in the US we have to read these backwards, from the bottom line up to the top, while in the UK no adjustment from normal reading practice is required?
Gas pumps - Be very wary when pumping petrol or diesel in the UK. The green hose and handle is for petrol (gas), not diesel as here in the US. The black hose and handle is for diesel.
Freaking Freezers!
Details

Category: Refrigeration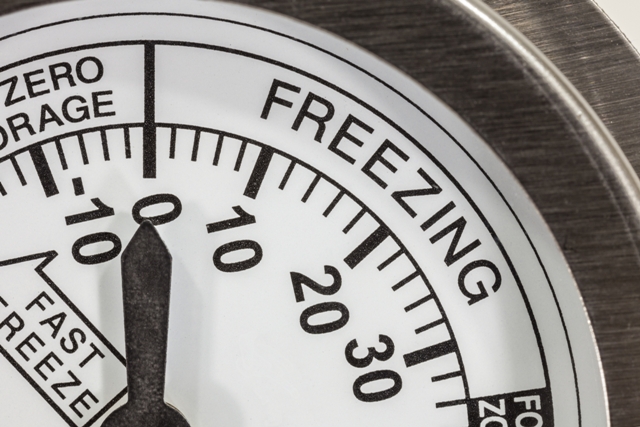 Are you, or is anyone you know, a Temperature Control Freak? You know the type; constantly fiddling with air conditioning and refrigerator controls and reporting on them to anyone within earshot. Well, I have such a friend.
TCF, as we will call him, has a digital temperature controller/thermostat and tells me that 39.2°F is the perfect temperature for his fridge. How he comes to this conclusion is beyond me, and quite honestly I don't want to ask. Suffice to say that he's happy with that after several months of laborious experimentation. And then there is the freezer ...
Now a fridge can only be between a narrow band of temperatures; too cold and it's a freezer, too warm and it's not a fridge. But a freezer can be kept at any temperature below freezing; from marginally frosty to cryogenic. It's all down to how you intend to use it.
Foodstuffs will be preserved as long as they are frozen, but the appearance and edibility when thawed will differ with different temperatures and time. In Europe there is a star rating system for freezers as follows:
AC/DC Controller: digging for answers
Details

Category: Refrigeration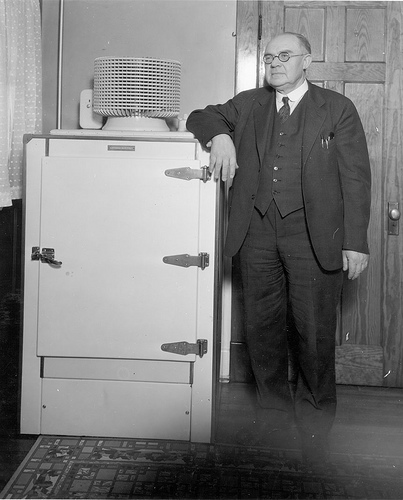 Once upon a time, a long time ago, there was only one brand of refrigerator that would work on 12v DC boat power. There must have been many thousands of them out there back in the day, predominately on powerboats, and a lot still exist to this day.

These refrigerators have one or two compressors typically mounted on the rear of the cabinet, and these compressors require 20v-30v AC for their operation. When 115v AC mains power is available, either from shore power or a generator, the power for the compressor(s) is supplied by using a simple transformer to lower the 115v AC down to the lower AC voltage required by the compressor(s).

But when the boat unplugs from the dock or the generator quits, the compressor is then powered from a built-in inverter that produces the required low voltage AC from the 12v DC supply. Due to losses inherent in inverters and the desire not to involve electronics unless absolutely necessary, these fridges would always be supplied with separate wiring for connection to both 115v AC and 12v DC, with the system automatically switching to 115v AC if it is available.

Fast forward to modern times, and we are now blessed to have marine fridges utilizing the super-efficient Secop (formally Danfoss) compressors that are powered by 12v or 24v DC. Under normal circumstances, when the vessel is at the dock and plugged in to shore power, the battery charger will be on and supplying the DC power for the fridge. The batteries are not involved in this process, as the DC from the charger does not go into and out of the batteries, but is supplied directly to the fridge from the charger.
In this situation there will always be 12v or 24v DC available, but if circumstances dictate that the charger will not be left on, or that at times there will be no 12v or 24v DC available,
Jumping Jack Flash - It's a Gas, Gas, Gas
Details

Category: Refrigeration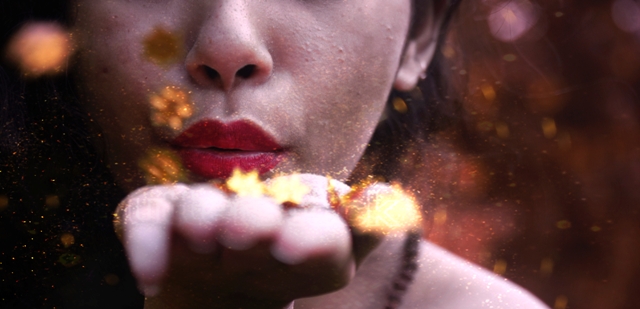 There has long been a debate about air cooling versus water cooling for marine refrigeration systems. Water cooling has traditionally been generally accepted to be between 25% and 35% more efficient in warm/hot ambient conditions, but some of that efficiency gain has to be offset by the energy required to run a water pump.

The Frigoboat Keel Cooled system is water cooled and does a fantastic job without the need for a fan or a pump. That will be mentioned later, but the following compares air cooled systems to traditional water cooled systems using sea water with a pump.

Many boaters these days seem to be opting for air cooled refrigeration systems even though they're heading south into hot climates, and despite the notion that air cooled is inherently less efficient than water cooled. Why is that?