Refrigeration
When The Web was just a very thin thread
Details

Category: Refrigeration
It was seventy years ago today, that Sgt. Pepper taught the band to play,
And twenty-five years ago, that Coastal Climate Control made a show.
And then, three years later in 1995, in the midst of a major snow storm in Annapolis, with skiers and snowmobiles having fun on the streets, Coastal entered the digital age. A computer was purchased, Quickbooks installed, and the next few snowy days were spent entering customer details and setting up the system. The old ledger book was re-purposed to prop up the TV, and Coastal was ready to start the Spring armed with new technology and a floppy disk full of digital dreams.
Some of the boatyards and marinas were not too enthusiastic about getting into computers back then, and there was much concern about loss of jobs. For the next few years I often encountered fully analog offices where pen and paper still ruled supreme, but of course that all gradually changed. It's hard now to imagine how it was in those offices back then, often seen through a haze of cigarette smoke, but inevitably progress prevailed. I don't recall any tales of mass job losses, protests, etc., so I guess it all transitioned fairly smoothly. In the early days, the computer was mainly used as an office administration tool, but then along came the internet and all that goes with it. Now we are all immersed in technology up to our data limits. What an incredible leap in technology in what seems such a short span of time.
What hasn't changed in 25 years is the need for a trained professional to come to the aid of a customer with a problem, whether in person or at the end of a phone or Ethernet cable. What has changed, however, is that nowadays many customers empower themselves with boat loads of information gained from internet searches which leads them to the conclusion that they don't require a technician's visit, as all they need is a bit of on-line help.
Is Your Wine Whining?
Details

Category: Refrigeration
Did you know that if you store wine at higher temperatures than 65°F, you will actually be accelerating the aging process? Conversely, storing wines at colder than 45°F means they will not fully develop, robbing the wine (and yourself) of its full potential. Even that inexpensive bottle of Chardonnay you bought on sale last week can be adversely affected by storing it under your boat's salon settee until you've made room in the ice box, which in itself is normally at 40°F, so not a good place to put your wine anyway.
The temperature at which you store, and serve, your wine will have an impact on its flavor and your enjoyment. Especially if you plan to store your wine for at least 6 months, you know, for that cruise you've been planning to take before life gets in the way. On my boat, wine doesn't last long in storage, but that doesn't mean I want the taste to be compromised because I didn't handle it correctly. Something that could be so easily fixed.
Off To The Loo?
Details

Category: Refrigeration

Having recently visited Britain, I happen to notice a few quaint little odd-ball quirks that I'd thought would be fun to share. These are in addition to the better known ones such as warm beer, driving on the left, going to the loo, cricket, and four tides a day in The Solent.
Light switches - In the UK these are down for on; up for off. Makes perfect sense to me, and great for hanging coats on during the day. Puffy jackets in Winter; raincoats in Summer.
Light bulbs - These have a bayonet fitting and are not screw-in. Attempts to unscrew them will not end well, especially with 230v power.
Road Lane Markings - Why is it that in the US we have to read these backwards, from the bottom line up to the top, while in the UK no adjustment from normal reading practice is required?
Gas pumps - Be very wary when pumping petrol or diesel in the UK. The green hose and handle is for petrol (gas), not diesel as here in the US. The black hose and handle is for diesel.
Freaking Freezers!
Details

Category: Refrigeration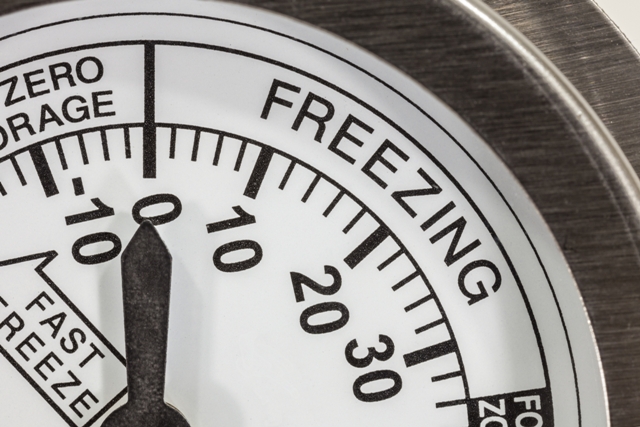 Are you, or is anyone you know, a Temperature Control Freak? You know the type; constantly fiddling with air conditioning and refrigerator controls and reporting on them to anyone within earshot. Well, I have such a friend.
TCF, as we will call him, has a digital temperature controller/thermostat and tells me that 39.2°F is the perfect temperature for his fridge. How he comes to this conclusion is beyond me, and quite honestly I don't want to ask. Suffice to say that he's happy with that after several months of laborious experimentation. And then there is the freezer ...
Now a fridge can only be between a narrow band of temperatures; too cold and it's a freezer, too warm and it's not a fridge. But a freezer can be kept at any temperature below freezing; from marginally frosty to cryogenic. It's all down to how you intend to use it.
Foodstuffs will be preserved as long as they are frozen, but the appearance and edibility when thawed will differ with different temperatures and time. In Europe there is a star rating system for freezers as follows: