Solar charge controller, what is it and do I need one for my marine solar panel installation?
An essential component in the installation of solar panels on your vessel is a solar charge controller or regulator. This will regulate the voltage and current coming from your solar panels going to your battery. Most solar panels are 16-25 volts, so if there is no voltage regulation the batteries will be damaged from overcharging. Bear in mind that a fully charged 12v battery is around 12.7 volts at rest, but needs around 14.2 to 14.8 volts under charge. A solar panel has to put out at least that much voltage to be of any benefit, but if the panel voltage is not controlled and reduced it will cause serious battery damage.
Another point to keep in mind: solar panels provide power best when cool, under a clear sky, and in full sun; in other words in perfect conditions. But one can't count on that type of weather day after day, so solar panels have to be built to provide that extra voltage for when the sun is low in the sky, there is cloud cover, high temperatures, or heavy haze to ensure your solar output is not compromised. The truth is a 100 watt panel rated at per industry Standard Test Condition (STC) of 77oF and 1Kw/sq m irradiance will put out less watts when its surface temperature is 100oF degrees and when only 800 w/sq m irradiance is available, i.e. when it is in non-standard conditions.
So this is where the right solar charge controller can help. There are basically two types – PWM (Pulse Width Modulation) and MPPT (Maximum Power Point Tracking).
Read more: Solar charge controller, what is it and do I need one for my marine solar panel installation?
Thermal Runaway in AGM Batteries
In Defense of Lithium Ion Batteries
Yes, it's true; thermal runaway can and does happen in Valve Regulated Lead Acid (VLRA) Absorbed Glass Mat (AGM) batteries, and is not a new phenomenon afflicting Lithium Ion batteries alone. A Google search of "Thermal Runaway in AGM Batteries" will reveal enough technical papers on the subject to keep even the most techno-savvy occupied for a long while, and will save me trying to explain the why's and wherefore's here. The simple fact is that, given the right conditions, an AGM battery can, and will, start a self-perpetuating internal heating process (thermal runaway) that can end in catastrophic failure with the possibility of fire and explosion. So why is there so much negative publicity and bad karma surrounding Lithium Ion batteries, when AGM's are prone to much the same maladies?
R134a Recharge Guidelines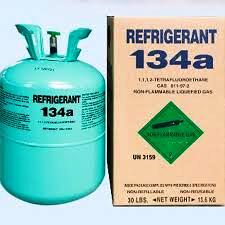 There is much talk and discussion in certain forums about how to determine the correct refrigerant charge level for a capillary tube refrigeration system, but there is only one, simple method that will result in the perfect charge in a Frigoboat system; the frost-line method. Pressures and current draw can be monitored to confirm that these are within expected limits, but there is no better way to guage the refrigerant level than with the frost-line method.
Frigoboat R134a charge guidelines
General
The following is intended to be a guide for a boat operator with average mechanical skills. It will describe what symptoms to look for in a correctly charged Frigoboat system so that an evaluation can be made as to whether service is required. No refrigerant gauges are necessary for this evaluation, and their use is required only for major repairs and for evacuating the system.
Warning!
Never use, or allow a technician to use, anything other than pure refrigerant R134a in a Frigoboat system. Cans of refrigerant R134a with additives must never be used, nor must stand-alone additives be introduced into the system. These additives include but are not limited to: leak detecting fluid, leak stopper, dye, extra oil, conditioner, etc. Serious damage can result from the use of such products, which are designed for use only in auto air conditioning systems.
Subcategories