A Whisper among Friends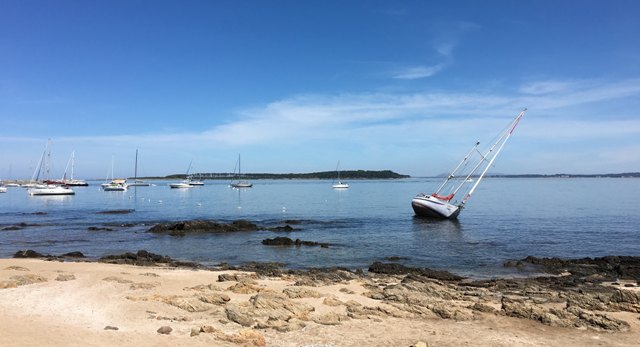 This will have to be a quick posting this time around, as we're trying to recoup our strength and recalibrate the little gray cells after the two Annapolis boat shows while scrambling to prepare for the biggie in Fort Lauderdale which starts in two weeks time.
We were also scrambling like mad dogs before the Annapolis shows, but this time it was with a new product that we were premiering, having discovered it only a few weeks previously at the Hershey RV show. At that show I came across a gent by the name of Ed Bender who was demonstrating a realistically priced remote monitoring system for RV's called RV Whisper that I think will also work very well for boaters.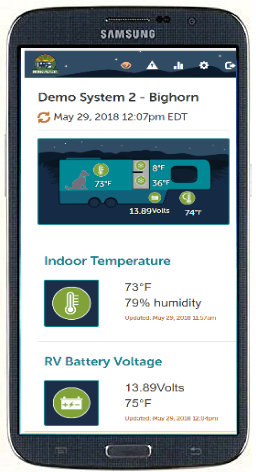 This RV Whisper allows one to check temperatures (fridge, freezer, bilge, main cabin, etc.), battery state, propane levels, and shore power status remotely from a smart-phone, tablet, lap-top, etc. There are also sensors available for door/hatch opening/closing and for moisture ingress, and all sensors other than for batteries and shore power are powered by their own internal batteries.
Alerts can be set up for any sensor to send email and text messages if any item is outside the thresholds set up by the user, i.e. low battery voltage or capacity, warm beer warning, kitty too cold, boat is sinking, etc.
Sensors:
Battery Voltage/Temp

- Small. Crocodile clips for quick and flexible installation.



Battery Power Monitor

- Small (3"x 1.5"x 0.75"), potted and weatherproof. Volts 0-75 (2 inputs), amps, SOC, Amp/Hrs, etc. Temperature. Can operate external relay to connect/disconnect under high/low voltage, over-current, or as charge isolator for second battery or charge controller for LiFePo. 60 amp internal Shunt, but can use larger, external model. Can share existing Shunt from Battery Monitors like E-Meter, Xantrex, Link, Victron BMV, etc. Timers. Requires PowerMon App.



Temperature/Humidity

- 1.5"dia. Adhesive Velcro pads for secure mounting. CR 2032 battery.



Propane

- Works on 20lb and 30lb cylinders by ultrasound. Attaches by magnets to bottom of steel tanks and by Velcro or similar for aluminum tanks. CR2032 battery. Requires LPG Tank Check (Mopeka) App.



Door/Hatch Open/Close

- Two-part with adhesive Velcro pads. CR2032 battery



Water/Flood

- Placed in dry location that would indicate water ingress if activated. Free standing. CR2032 battery.



Shore Power

- Hard wired in shore power line before breaker panel. Volts, amps, watts, etc. Currently being adapted for marine use.
The sensors all communicate to a central Monitor Station via Bluetooth, which then transmits by Wi-Fi either to the boat's Wi-Fi internet connection, or directly by Wi-Fi to a smart phone, tablet, lap-top, etc.
For remote access, the system requires an internet connection on the boat, which many boats apparently have already either from mobile internet devices or from a nearby establishment like a marina. One couple told me that they leave one of their phones on the boat as a mobile Wi-Fi hot spot when they go ashore, and another customer intends to use a Power Monitor battery sensor to send text alerts when the bilge pump is/has been operating. It seems they have a leaky boat and would be far more relaxed onshore knowing that their bilge pump was operating regularly.
The fact that all data is stored in the Monitor Station and not in the cloud, as with some other systems, means that you can use the system when onboard without an internet connection. Once you access your system you see a snapshot of vital information for each sensor, and I know that the geeks out there will just love the graphical presentations of historical data that are just a click away. That was one feature that really got my juices flowing!
You can see a demo system by going to:
https://access.rvwhisper.com/
Username: boatdemo1
Password: boatwhisperdemo
Then click on "Go To My RV", explore away and have fun!
As you can see, Ed and I have been scrambling to formulate a proper boaty version of the system designated "BoatWhisper", but it's going to take some time to get it all together. One day we'll have a nice boat graphic to replace the RV, but for now we'll just have to share some of the labels and verbiage with our landlubber friends in their RV's, but they did get there first, after all.
We've assembled three package deals for the Annapolis shows which reflect some nice savings compared to buying items separately, and these deals will be available for another week or so. Interested parties can buy a package and also purchase additional sensors here: https://rvwhisper.com/coastal/
It was good to see so many familiar faces in Annapolis, and to make new friends, and many thanks to those of you that said you enjoy these postings. I guess that means it's not quite time for me to hang up my blogging boots …
By accepting you will be accessing a service provided by a third-party external to https://coastalclimatecontrol.com/