Stainless steel AC/DC powered 8.1 cu. ft. two door, full size refrigerator freezer. Comes with an integrated compressor for easy slip-in installation.
Features:
Built-in compressor (cooling unit) – easy installation
Reversable door, opens on left or right
Flush mount flange frames the unit
Stainless steel door, flush stainless steel flange
12/24 VDC, 115/230 VAC


Specifications:
Sea Steel: model no. DP2600IXD4-F Refrigerator type: front door opening cabinet
Doors: swing right (can be adjusted to swing left)
Doors: Stainless steel
Interior light: LED
Mount: built-in, flush
Refrigerator volume: 6.0 cu. ft
Freezer volume: 2.1 cu. ft.
Compressor: built in Danfoss/Secop BD35 air-cooled
Voltage: 12/24 volt DC and 100/240 volt AC (50/60 Hz)
Power Consumption – 65 watts
Current draw 12 volt DC – 5.38 amps
Current draw 115 volt AC – 0.76 amps
Door, flange, sides: stainless steel
Dimensions (overall): 53.3"H x 24.8"W x 23.7"D
Dimensions (cut-out): 52.9"H x 23.6"W x 23.7"D
Due to size and weight, ships via truck freight only.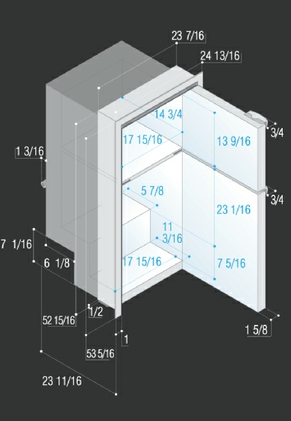 Vitrifrigo DP2600 ac/dc fridge/freezer, Stainless Steel
Brand: Vitrifrigo
Product Code: DP2600IXD4-F
Availability: In Stock