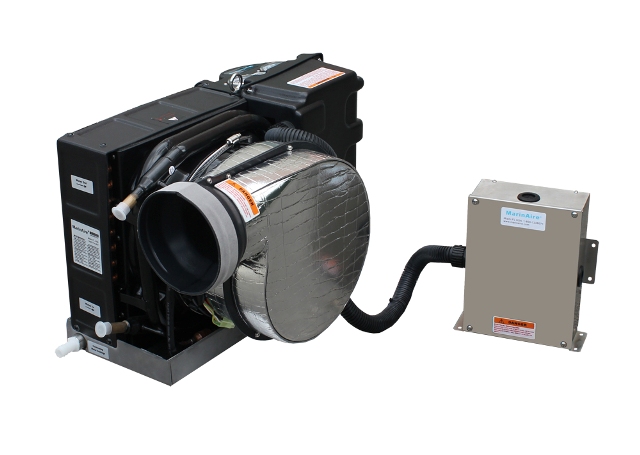 Finally, this is what a quality marine air conditioner should look like! And act like! See our video.

11,000 - 14,000 - 16,000 Btu compact air-conditioning system for your boat; water-cooled with many standard features that others don't even offer!

Standard features include:
Temperature and humidity control, using one of two provided sensors
Very low start-up and running current - here's the proof in a video
Powerful, but quiet blower
High efficiency Toshiba compressor
Attractive digital display - see it on this video

Priced so low, MarinAire has asked us not to list it. Contact us for pricing.


| | | | | | |
| --- | --- | --- | --- | --- | --- |
| Model | MSBA6K2 | MSBA9K2 | MSBA11K2 | MSBA14K2 | MSBA16K2 |
| Nominal Btu Capacity (ABYC) | | | | | |
| Cooling | 6,000 Btu | 9,000 Btu | 11,000 Btu | 14,000 Btu | 16,000 Btu |
| Heating | 7,000 Btu | 10,000 Btu | 12,000 Btu | 15,000 Btu | 17,000 Btu |
| Cooling Capability | | | | | |
| Below Decks - Night Cabin | 500 cu ft | 750 cu ft | 900 cu ft | 1,150 cu ft | 1,350 cu ft |
| Below Decks - Day Cabin | 450 cu ft | 650 cu ft | 785 cu ft | 1,000cu ft | 1,150 cu ft |
| High Glass Area - i.e. salon | 350 cu ft | 550 cu ft | 650 cu ft | 850cu ft | 950 cu ft |
| Raised Area - Abundant Glass | 300 cu ft | 450 cu ft | 550 cu ft | 700cu ft | 800 cu ft |
| Minimum Grille Area | | | | | |
| Non-closeable discharge | 45 sq in | 60 sq in | 60 sq in | 70 sq in | 70 sq in |
| Return air | 90 sq in | 100 sq in | 120 sq in | 140 sq in | 140 sq in |
| Duct Ring diameter | 4" | 6" | 6" | 6" | 6" |
| Minimum Water Flow | 150 gph | 225 gph | 275 gph | 350 gph | 400 gph |
| Recommended pump - March | P250 | P250 | P500 | P500 | P500 |
| Inlet and outlet hose size | 1/2" ID | 5/8" ID | 5/8" ID | 5/8" ID | 5/8" ID |
| Condensate Drain hose size | 5/8" ID | 5/8" ID | 5/8" ID | 5/8" ID | 5/8" ID |
| Power Supply | 110-120v 60Hz | 110-120v 60Hz | 110-120v 60Hz | 110-120v 60Hz | 110-120v 60Hz |
| Running current | 6 amps | 7.5 amps | 8 amps | 10 amps | 11 amps |
| Minimum Wire Size | 14 AWG | 14 AWG | 12 AWG | 12 AWG | 12 AWG |
| Maximum Breaker Size | 15 amp | 20 amp | 20 amp | 25 amp | 25 amp |
| Noise Level | <40dB(A) | <42dB(A) | <42dB(A) | <44dB(A) | <44dB(A) |
| Weight | 38.5 lbs | 51 lbs | 61 lbs | 65 lbs | 67 lbs |
MarinAire marine air-conditioning
Brand: MarinAire
Product Code: MSBA16K2
Availability: In Stock
Related Products